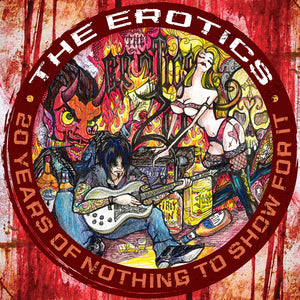 Cacophone
The Erotics - 20 Years of Nothing to Show for It [Best of the Erotics] - 2CD set
Regular price
$12.00
$0.00
Unit price
per
Cranking out sleazy anthems of real rock'n'roll since 1996, no one knows how to party like the Erotics! So, we did it up right on their 20thAnniversary with a 2-CD set featuring 40 tracks hand-picked by Mike Trash himself!
40 of the absolute best tracks from 11 Erotics releases over the past 20 years!
Including rarities and a few unreleased gems!
Remastered to sound better (& louder) than ever!
Comes with a full-color, 16-page booklet filled with history, 96 photos of memorabilia, posters, handbills, never-before-seen live and outtake pics, t-shirts & more.
Meticulously annotated, with incredible liner notes by former Erotics drummer Bill Ketzer, plus, an interview with the band, a sidebar on the origins of Mike Trash, and a timeline of every musician that's been a part of 20 years of history.
Tracks:
Disc 1: We're Never Alright / Three Sheets to the Wind / Last of the Rock N Roll Motherf*ckers / Death with a Heartbeat / Hell Is Where My Heart Is / Your Bloody Frankenstein / Blast Off / She Sucks the Life / 19 Goin On Homicidal / Today the Devil, Tomorrow the World / Think I Wanna Die Tonight / Push Comes To Death / Get Away from Me (Mother F*cker) / Born to Let You Down / Your Mommy Is a Monster / Don't Make Me Make You / It's True / Baby Rock Out / All-American Catholic Boy / Teenage Drag Queen
Disc 2: Rock N Roll Killing Machine / I Like It the Way U Hate Me / Drop the Bomb / Drink, Fight, and F*ck (kick-ass version) / Space Age Mafia / Gas Chamber Barbie Doll / Only Girl for Me  / 21st Century S.O.B. / Agony & Xstacy / Nervous Breakdown / Too Many Reasons / Zero Personality / Anxiety 101 (rare early version) / Wreck My Bedroom / Please Kill Me / Slip It In / Got Drunk Again / Way Too Punk (prev. unissued) / Mad About Mary (prev. unissued) / Kicked in the Teeth by Love (prev. unissued)
---